A couple that nearly separated due to impacts COVID-19, is re-united through civic education 
When measures to prevent the spread of the novel coronavirus (COVID-19) were announced in Uganda in March 2020, there was a lot of panic and uncertainty at both household and institutional levels. Many companies downsized in response to the reduction to revenue, occasioned by the reduced work, or no work at all during the lockdown.
Patricia (28) and Moris (34), were among those laid off their causal labor jobs, at a pine farm in April 2020. They are a couple with three children, who reside in Kyakabaga Village, Nsambya parish, Nsambya Sub County, in Kyankwanzi District.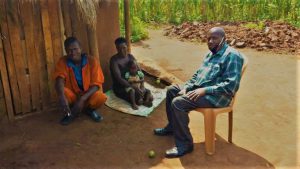 In the photo: Moris and his wife seated with Richard (Monitor on the chair)
With no alternative source of income, Moris sold off some family property and used the income for sports betting, with the hope that he would earn more. He lost it all! Out of frustration, he resorted to heavy drinking, leaving the burden of finding food for the young and vulnerable family, solely to his wife. She first begged for food from neighbors and later found a young man who she temporarily moved in with, returning daily to her matrimonial home to check on the children. Physical and verbal fights ensued between husband and wife. "I could not afford to see my wife whom I have married with my sweat, being taken by another man in a joking manner. I had to use the means I had, to bring her back to our children; and I was ready to kill anyone who opposed me in getting my wife back", narrated Moris. When the neighbors saw him moving about with a panga, threatening to kill anyone, they mobilized each other and chased the family out of the rented house. Once homeless, the couple was desperate. The Resident District Commissioner (RDC) was called to intervene in this matter, but referred it to the LCI chairperson. He offered the couple room to stay, and engaged them to settle their differences with minimal success. He then invited Mr. Masumbuko Richard – one of ACTADE'S trained community civic educators.
"Richard was warm with us, and he talked to us about gender and domestic violence, sharing the disadvantages of how it can affect the children's growth, destroy the marriage and family at large. He also talked about child protection and their rights and the advantages of raising children together as a family. He also took us through a counseling session and encouraged us  that, the only way to live  happily in a family is learning to forgive one another", Moris added.
Richard visited the family more than twice, encouraging them to improve the family situation.
"We now feel as if we have just married after forgiving one another and promising each other to start a new chapter. Richard you have saved our children from our wrong behaviors" Moris and Patricia thanking the civic educator.