The Citizen's Voice and Action (CVA) project empowers the LCI of Kizinge Village-Kiboga District.
In September 2019, the DGF-funded Citizen Voice and Action project supported the training of 50 Community Based Educators and Monitors (CBCEMs) in Kiboga District in various civic education topics. The 5-day training initiated these 27 males and 23 females into two core responsibilities- to lead the monitoring of service delivery and secondly to spread the gospel of civic education across the district.  One beneficiary of this civic education was Mr. Myomba Charles (in the picture on the left); the Local Council One (LCI) Chairperson of Kizinge village, Kibiga Sub County. "I was invited in December 2019 by Mr. Kamoga Collin, one of ACTADE's monitors, to a civic education session on the topics of leadership and accountability; good governance and service delivery. I did not pay much attention to it. He however returned and explained my roles and responsibilities as the LC I Chairperson".
Until then, Mr. Myomba was mostly presiding over cases of gender based violence in his area, addressing an average of 30 cases a month. He was not paying attention to other developmental matters in his area such as convening community meetings, and following up on service delivery like. "With a better understanding about my roles and responsibilities, I worked closely with the monitors to lobby for good roads and the renovation of a school. I have since become more courageous and comfortable in approaching the technical people about developmental issues at the Sub County such as the Community Development Officer and the Sub county Chief; and those at the district such as the Planner".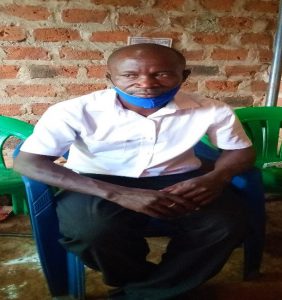 He was also surprised when the domestic violence cases drastically reduced from 30 cases to an average of four since July 2020. "At first I did not understand why, until a community member, Ms Nmonde Rosemary informed me about the ongoing civic education related to gender and gender based violence. These topics are addressing the real needs of the community". Mr Myomba Charles appreciates the projects intervention in the area, particularly the CBCEMs who he says have relived him of a lot of work.