Climate Change Action Projects
In 2020, this programme area ACTADE continued to enhance and facilitate multi-stakeholder dialogues on sustainable economic policies in Uganda. Interventions under this programme area engaged Government and private sector, media, climate change activists, academia and relevant Civil Society Organizations working to address Climate change issues. The approaches used under the programme in 2020 included; research, dialogue through organizing roundtable discussions and private sector conferences on key topics around sustainability, climate change, digitization, among others.
ACTADE organized dialogues in form of round table discussions aimed at raising awareness of a number of issues such as; Climate Change challenges among stakeholders and understanding of Government's response measures including ongoing actions under the NDCs, and making a call for joint action. Under the Platform for Uganda Green Growth (PLUGG), round table discussion series and field activities were conducted in 2020. The round table meeting was organized themed "the Status and Costs of Kampala's Polluted Air" which aimed to increase stakeholder awareness of air pollution in Kampala, as well as a call to action for all individuals. In the same spirit, ACTADE field visits in the newly approved cities and engaged then on greening the cities. The findings from both interactions were also to be used to make informed contributions during the Green-Growth Summit.
Related to the above, in 2020 the publication on Liquefied Petroleum Gas (LPG) dubbed as the "Study Report on Accelerating the Uptake of LPG in Uganda" was validated and disseminated to relevant stakeholders. The study delves into the growth of the clean cooking sub-sector with focus on LPG, exploring the national legal and policy frameworks governing the LPG, incentives for scaling up uptake or buy-in, challenges/limitations, recommendations for scaling up adoption and most importantly, opportunities for those involved or who were contemplating joining the trade of LPG supply. This study was also conducted to inform policy engagements at national and international level, such as the Green Growth Summit.
ACTADE participated fully in the International Conference on Community Based Adaptation (CBA15) as a contributing partner. ACTADE was represented on different panel discussions and lessons and experiences shared on community led adaptation. This increased visibility of ACTADE's work on climate change. The lessons and experiences from this conference will be integrated in the planning for climate action activities.
ACTADE also remained an active member of Climate Change Action Network (CAN-U), as part of the Board. ACTADE continued to participate in different consultative meetings at national level on the Climate Change Bill and climate financing together with other CSOs such as ACODE and Environment Management and Livelihood Improvement (EMLI).
Further under this program, ACTADE has still gone ahead to organise dialogues this year 2022 like;
The Okere Summit for sustainable development
The summit was organized by African Centre for Trade and Development (ACTADE) in collaboration with Konrad Adenauer Stiftung (KAS) and Okere City.  The summit brought together a total of 50 participants from Kampala to have a free exchange of ideas on the Sustainable Development Goals (SDGs) with 200 rural people of Okere parish, Adwari Sub-County, Northern Uganda. The main objective of the summit was to generate and increase more interest in rural futurism as one of the ways to drive the attainment of the SDGs.
Planting of Shea Trees
Unlike conventional conferences that usually start with strong verbal statements and speeches, Okere summit was started with a simple and novel act of planting 100 Shea trees. Experts from Kampala together with local leaders in Okere assembled at the farmland which is being transformed into a Shea parkland. Each of the 50 participants was handed 2 Shea tree seedlings which they successfully planted. "The shea trees were planted that because, over the past 20 years, Okere village has lost 80% of its Shea trees cover due to charcoal burning," Okere City aims to plant over 1M Shea seedlings in the next 10 years to reverse the ecological and economic loss which are already being experienced in Okere, such as incessant drought and increasing poverty conditions and the rural people can no longer harvest more Shea nuts to sell as a source of household income.
Participants of the summit ready to plant the shea trees.
The Place of Migrants and Urban Refugees in Uganda's Labor Market dialogue
In datum, the International Dialogue on Migrations (2020) acknowledged the difficulties that are faced by migrants and refugees in their quest to freely access economic opportunities in the host countries. It also echoed on the hardships that surround gathering knowledge aimed at improving policies about migrants and refugees. The Sustainable Development Goals 2030 (SDGs), specifically SDG 8 (Decent work and economic growth) argues that vulnerable groups such as women, youth, migrants and refugees who are disadvantaged in the labor market must be given particular support such as, maintaining refugee resettlement schemes, establishing and implementing income-generating programmes to promote self-reliance of refugees and migrants.
It is within this context, that ACTADE and KAS organized an SDG Talk to examine the constraints and available opportunities for migrants and refugees in their quest to access descent economic opportunities in Uganda, while they share their lived experiences. The dialogue did help to generate better knowledge, and insights that can help policy makers to ensure that skills development and recognition programming is directed at those who need them most within the migrant and refugee population. Similarly, listening to, and engaging the migrants and refugees in the analysis of their problems is part of the solution to the subject matter.
The event attracted 28 participants that included urban refugees and migrants (main participants), academia, International agencies, civil society (working with migrants and refugees), and the private sector. Organizations and companies that attended included Jesuit Refugee Services (JRS), IOM, Refugee Law Project, Refugee Talent Group, Vision Fund, Opportunity Bank, Young African Refugees for Integrated Development (YARID), International Refugee Rights Initiative (IRRI), among others.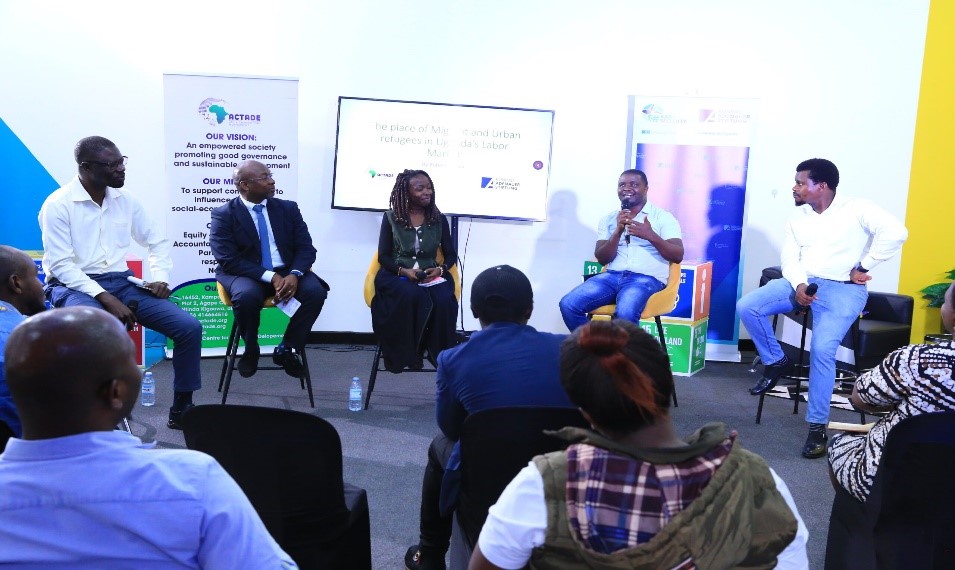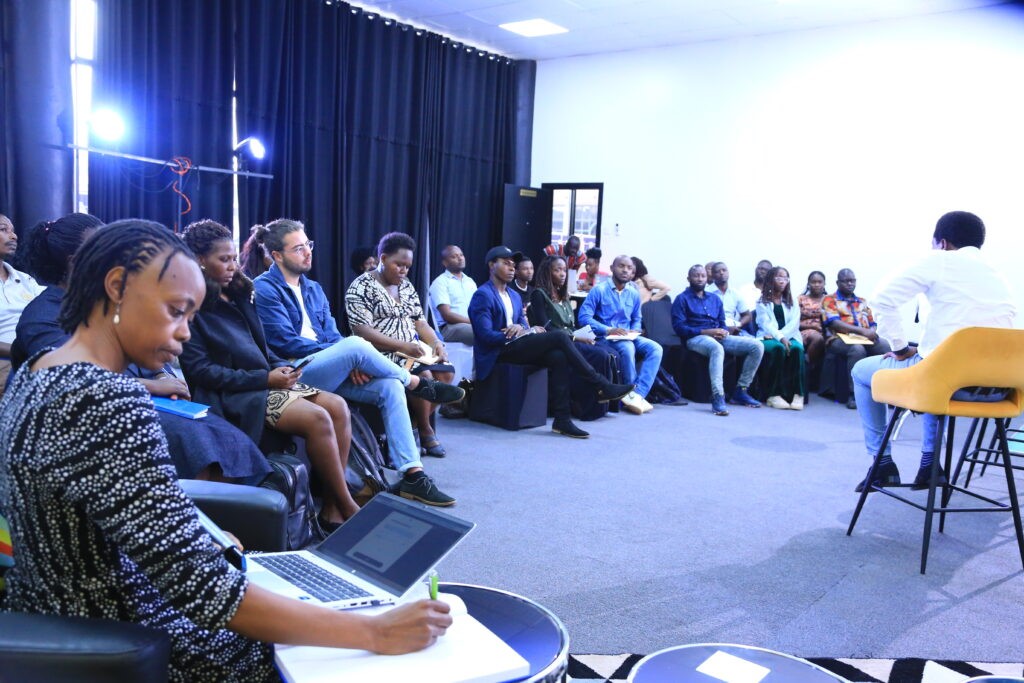 In  the above Photos: On 06th October 2022 at the Media Challenge Initiative- MCI Media Hub, we convened a discussion together with Konrad Adenauer Stiftung (KAS) to explore pathways and opportunities towards integrating urban refugees and migrants into Uganda's labor market.
. City capacity assessment for sustainable development dialogue
The capacity needs assessment was set out to explore the baseline situation around six domesticated indicators of SDG 11, to establish the kind of capacity support the new cities require to grow sustainably. The considered indicators were sustainable housing, sustainable human settlement planning, disaster risk management, environmental impact management, and public green spaces. The intention was to provide an informed basis for initial multi-stakeholder capacity-building support to the new cities with a particular focus on knowledge needs for green city development. The capacity needs assessment covered five cities of Arua, Lira, Jinja, Masaka, and Fort Portal.
With the specific objectives of the capacity needs assessment are to:
Identify capacity, and information needs for sustainable urban development in each of the five cities. This covers knowledge needs and manpower levels to drive sustainable urban development.
Map the relevant stakeholders for sustainable urban development of the cities. This covers all those involved in activities that support green city development.
The effort contributed to the need to match the capacity of city authorities to fulfil the mandate to plan and manage urban growth as recognized by the Uganda National Urban Policy. This was also in line with the policy strategies of building the capacity of relevant institutions, staff, and key stakeholders to enhance integrated development planning, among other similar provisions in the policy. In addition, the assessment and the envisaged capacity building were aligned with the national Uganda Green Growth Development Strategy. This stipulates, among others, the need for capacity to support comprehensive physical planning and efficient waste management, and planned multi-modal and mass transport systems for urban areas. Operationally, assessing and addressing the needs of these new cities is supposed to contribute to the realization of the objectives of NDP III on sustainable urbanization and housing. This is particularly so for urban housing, market, and provision of decent housing, promotion of green and inclusive cities, as well as strengthening of urban policies, planning, and finance.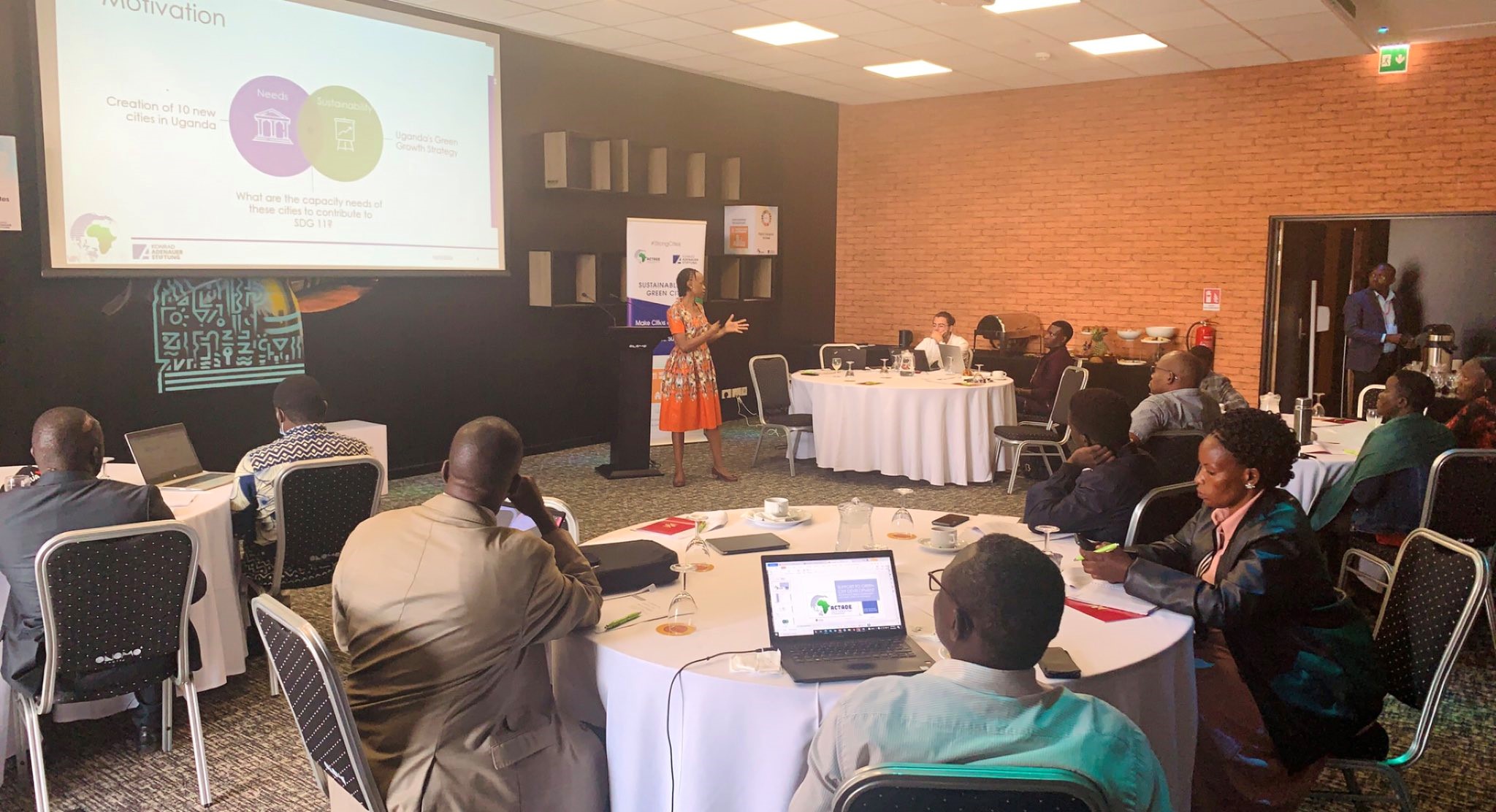 The city representatives of Arua, Masaka, Jinja, Fort poral and Lira city during the City capacity assessment for sustainable development dialogue.